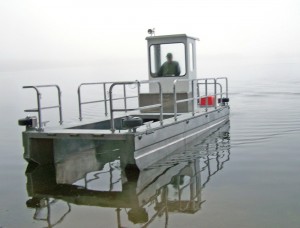 The MS-85 is the Ultimate Utility Tool for Marine use.
This is a surface debris skimmer with an 85 cubic foot (2.407 cubic meters) carry capacity.
It comes with removable deck plates and converts into a work barge with optional tool chest, generator, welder, lifting device and whatever else you need for your application
This machine has removable bench seats so that it can also be a people shuttle transporter
The unit is 8 feet (2438.4 mm) wide, 23 feet (7.0104 m) in length, and only 2.4 feet (711.2 mm) with the 3 sided wheel house removed.
The MS-85 in constructed out of aluminum  and weights in at 3,278 pounds (1486.88 kg).
This unit can be shipped in one ocean container anywhere in the world with container cargo service.
Click a thumbnail to view a larger version…