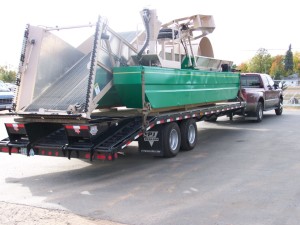 We sell a complete line of NEW mechanical aquatic weed removal machines commonly referred to as aquatic weed harvesters. This is a global business so quality of product and product support are crucial to your successful use of these machines. Aquatic Weed Harvester Company makes the most reliable harvesters on the market and our support of the product, and you as our customer, is second to none.
You are purchasing directly from us, the manufacturer.
All our machines are built for you on a custom, made to order basis. We do not inventory new product but instead, we build the model you require to exacting specifications.
Your choices? The type of hull, propulsion, engine, and other features that are critical to perform effectively and efficiently in the specific environment in which you will be applying our harvester.
View our models by using the "New Equipment" menu below.