Welcome to Aquatic Weed Harvesters
We manufacture only Heavy Duty commercial quality aquatic weed harvesting equipment. A complete line Of weed  harvesters, trailers, trailer conveyors, shore conveyors, shuttle transport barges, Amphibious Hydraulic Excavator, work barges, transport barges, Amphibious Utility  Tractors, and custom made marine vessels. If you wish to seek further information proceed on and thank you for stopping by.
Featured Model: WH4-75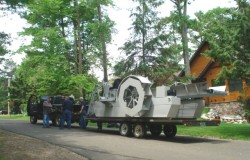 Water Master Series II line of aquatic weed harvesters. Light weight, extremely portable, compact, productive commercial quality harvester for the lake home owner, maintenance contractor, property management companies, … Learn more...
MS-85: The Ultimate Utility Tool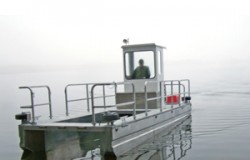 The MS-85 is the Ultimate Utility Tool for Marine use. This is a surface debris skimmer with an 85 cubic foot (2.407 cubic meters) carry capacity. It comes with removable deck plates and converts into a work barge with optional tool chest, … Learn More...